Well, this certainly has been an exciting experiment! But to be perfectly honest, as they say, I have seen enough.
Whereas Frank Capra's George Bailey was granted the experience (thanks to his guardian angel!) of seeing what life would be like without him, we have been 'granted' the opposite experience (by some darker power), the horrible vision of seeing what we are like without life!
We all now have some taste of the lifeless life, and it is anything but sweet!
The peculiar mark of the artistic genius is the ability to capture the universal in the particular; the artistic genius makes something very large, something important, even something infinite, incarnate in a relatively small thing like a painting, a block of marble or, in this case, a two-hour black and white movie.
And so Capra managed to encapsulate the beauty of life, with its concomitant sufferings and joys, in the life of an ordinary man named George. If he accomplished nothing else, Capra shows us why life is worth living. He shows us what life is and why it is wonderful.
And what is life?
Life is sledding down dangerous hills perilously close to an icy death (where were the parents!?).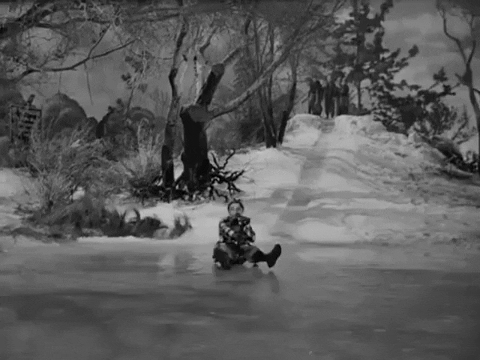 Life is walking and whistling down the public street locked arm in arm with close friends,
Life is packing into an old jalopy with no seatbelts and way too many kids and a goat to drive to one's new home!
Life is standing shoulder to shoulder with others to confront irrational panic!
Life is about coming together to weep and pray…
celebrating and maybe even taking up a collection…
and singing Auld Lang Syne (even in flu season!).
At the top of the list of "most inspirational movies of all time," Capra's It's a Wonderful Life reminds us that life is wonderful and worthwhile not because of how we live safely apart from one another, albeit in a sterilized environment.
Even though he was headed for jail, through no fault of his own, George Bailey could not restrain his exuberance…because Zu Zu's petals were real.
I want to live again, don't you?